BedRug's rugged construction means that this bed liner can handle heavy cargo and prevent it from shifting due to it's anti-skid surface. It is engineered for exterior use, is stain and UV resistant, easy to clean with just water and has a comfortable, knee friendly 3/4" cushioned floor. Not even bleach, oil or battery acid are a match for this bed liner!
This is the most innovative and unique truck bed liner there is. You get the look and comfort of carpet, in an ultra-tough 100% polypropylene product.

BedTred Ultra Series provides a rugged work surface that is tough enough to withstand dents and dings while protecting your most fragile cargo from sliding around your truck bed.It is a 5-piece zipped liner that installs with hook and loop fasteners, without damaging the truck bed. While traditional spray-in liners can quickly fade and chalk, the BedTred material is fade and UV resistant.
​Protect the bed of your truck with the Tough, Dependable and Best Selling Bedliner in the market - the Pendaliner SR!
​This bed liner features an innovative, super skid-resistant surface that is non-abrasive and doesn't rub off. Thick ribbed construction provides extra protection and allows airflow between bedliner and truckbed for moisture evaporation. The Pendaliner SR Bed Liner is manufactured from model-specific molds providing a perfect fit every time. The tailgate also comes equipped with cupholders.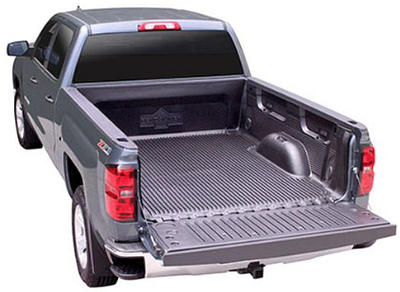 ​Our Trail FX heavy duty bed mats provide your truck with tough, affordable protection.. Take a look at all the features and benefits below to find out why Trail FX Bed Mats are the right choice for your vehicle.
​This bed mat is constructed of durable Nyracord rubber and has a textured surface that provides a non-skid area to reduce load shifting. It is virtually indestructible and has superior abrasion resistance and tear strength. Each mat is custom molded to fit each truck model. Extra thick (3/8" material) provides up to 50% more protection than other bedmats. A knobby underside promotes aeration and drainage to keep the truck bed dry.
​WeatherTech® TechLiner™ is the easiest to install, custom-fit solution for protecting and preserving pick-up truck beds - PERIOD!
​Made from a 100% recyclable and odorless thermoplastic elastomer, TechLiner™ is durable, flexible and UV resistant. Custom-fit for each application, the liner securely fits the exact contours of the truck. It will not crack, break or warp even in extreme temperatures. The liners "soft touch" material helps prevent cargo from shifting yet provides ease to loading/unloading.

862 Lancaster St. Leominster, MA 01453​
54 Years (3 Generations) Family Owned & Operated
Factory Trained Installers • Experienced Sales Staff