Mission Trailers, made right here in New England, is a premier manufacturer of aluminum trailers in the USA for a variety of recreational uses.
Aluminum trailers are ideal for the homeowner as well as the service industry and those needing quality - but lightweight -enclosed or open trailers.
MISSION SSR UTILITY TRAILER
Available in 5'x8', 5'x10', 6'x10' & 6'x12' deck sizes
1/2" Marine Tech Plywood Decking
Fixed 16" sides with .030" skin (choose color)
Integrated aluminum rear ramp
Recessed rubber mounted LED lights
MISSION ENCLOSED ALUMINUM MOTORCYCLE TRAILERS
Whether you're a weekend warrior, Moto GP racer or a die-hard collector, our motorcycle product line offers the perfect model for your lifestyle. Combining an impressive list of standard features and a number of motorcycle-specific options, the sky's the limit when designing a motorcycle trailer to meet your specIfic demands. ​
MISSION ALUMINUM CARGO TRAILERS
Mission Trailers makes cargo trailers in small sizes - up to 8 1/2' x 20'.Whether you're hauling furniture, music equipment, or tools and equipment that you want protected, you'll discover the aluminum trailer difference.​
MISSION OPEN SNOWMOBILE TRAILERS
Mission Trailers makes more than a dozen sizes of open, aluminum snowmobile trailers as well as snow trailer covers. Each trailer is designed to make transporting, loading and unloading a breeze- allowing you more more time to do what you love! ​
The all-aluminum Sport Deck by Mission offers customers the ability to haul multiple sleds or 4-wheelers on the back of a pickup truck.Built to withstand the elements, you'll find yourself exploring new terrain that was once unreachable while towing a trailer. Already own a snowmobile or ATV trailer? Add the Sport Deck to your rig and take along your friends and family. ​
Upgrade to Bi-fold rear ramp
Upgrade to pressure treated plank decking or extruded aluminum decking
Different color sides
MISSION Tandem Axle FA 2.0 Utility Trailer
MISSION 83" Wide ATV TRAILERS
All Aluminum Frame, Box Tube Construction
Available in 10', 14' and 16' Lengths (Tandem Axle on 16')
Front and Rear Stowing 8' Loading Ramps
Side Load or Rear Load with Stow Away Ramps
Pressure Treated Plank Decking
Radial Tires
2" Hitch Coupler & 5000lb Safety Chains
LED LIGHTS
Front Tongue Jack
Track Mats and Ski Guides
Tapered Rear Ramp
Additional Slide in Tie Downs
Galvanized Rims
Galvanized Axle
MISSION OPEN-MOTORCYCLE TRAILERS
All Aluminum Frame, Box Tube Construction
Heavy Duty Stow Away Ramp
Extruded Aluminum Decking
Interior perimeter recessed tie down track system
Exterior perimeter recessed tie down track system
2" Hitch Coupler & 5000lb Safety Chains
Sealed & Enclosed Wiring System
Removable 18" Aluminum Stone Guard
13" Aluminum Spoke Rims
4 Year Limited Warranty
All Aluminum Frame, Box Tube Construction
Available in 102", 10', 12', 14', & 18' Lengths
Side Stowing Ramps
1/2" Marine Decking
Torsion Axles (Tandem 3500" on 18' model)
2" Hitch Coupler & 5000lb Safety Chains
LED LIGHTS
MISSION 88" Wide ATV TRAILERS
MISSION WR 2.0 Utility Series
Available in 5'x8', 5'x10', 5.5'x10', 6'x10', 6'x12', 6'x14', 6.5'x10', 6.5'x12' & 6.5'x14'
All Aluminum Frame, Box Tube Construction
2x8 Heat Treated Decking
Lay Flat Ramp w/ Beveled Edge
1"x2" Welded Perimeter Rail Kit
Radial Tires on Silver Mod Rims
3500# Leaf Spring Axle
LED Lights
Upgrade to Bi-fold rear ramp
Upgrade to extruded aluminum decking
Front tongue jack
Available in 6.5'x12', 6.5'x14', 6.5'x16' & 6.5'x18' deck sizes
All Aluminum Frame, 2"x5" Tubing
2x8 Heat Treated Decking
Aluminum Rear Ramp
1"x2" Welded Perimeter Rail
Radial Tires on Silver Mod Rims
Tandem Braked 3500# Leaf Spring Axle
LED Lights
Tongue Jack
Upgrade to Bi-fold rear ramp
Upgrade to extruded aluminum decking
Front tongue jack
MISSION AR 2.0 Utility Series
Available in 4.5'x8', 4.5'x10', 5'x8', 5'x10',5.5'x10', 6'x10', 6'x12', 6.5'x12' & 6.5'x14' deck sizes
All Aluminum Frame, 2"x3" Tubing
Extruded Aluminum Deck
Aluminum Lay Flat Rear Ramp
NEW Interior slide track for easy adjusting tie downs
NEW Exterior slide track for side rail kits, stabilizer jacks or spare tire holders
Aluminum Rims
Torsion Axle
LED Lights
Upgrade to Bi-fold rear ramp
Swap to Pressure Treated Plank Deck
Side Rail Kits
Stabilizer Jacks
MISSION AR 2.0 Utility Series
Available in 6.5'x10', 6.5'x12', & 6.5'x14' Deck Sizes
All Aluminum Frame, 2"x3" Tubing
Extruded Aluminum Deck
Integrated Rear Ramp with Beveled Edge
2"x2" Welded Perimeter Rail
NEW Exterior slide track for side rail kits, stabilizer jacks or spare tire holders
Aluminum Rims
3500# Torsion Axle
LED Lights
Tilt Deck Feature w/hydraulic dampener (6.5'x12' and 6.5'x14' models only)
Upgrade to Bi-fold rear ramp
Swap to Pressure Treated Plank Deck
Side Rail Kits (shown in upper image)
Stabilizer Jacks
Available in 6.5'x14', 6.5'x16', 6.5'x18' & 6.5'x20' deck sizes
All Aluminum Frame, 2"x5" Subframe Tubing
Extruded Aluminum Deck
2"x2" Fixed Perimeter Rail
Integrated Rear Ramp with Beveled Egde
NEW Exterior slide track for easy install of side rail kits, stabilizer jacks or spare tire holders
14" Radials w/ Aluminum Rims
2 3500# Braked Torsion Axles
LED Lights
Front Tongue Jack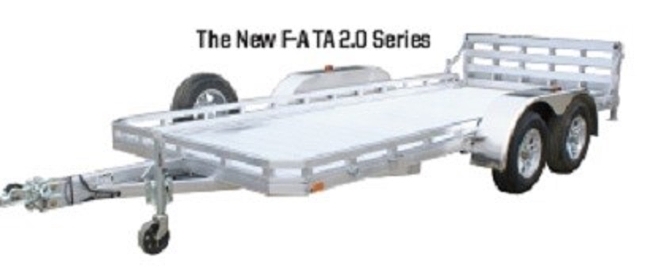 Upgrade to Bi-fold rear ramp
Upgrade to 4000# slide out ramps
Side Rail Kits
Stabilizer Jacks
Adjustable D-Ring Kit
All Aluminum Frame, Box Tube Construction
Available in 6.5'x14', 6.5'x16', 6.5'x18', 6.5'x20' and 6.5'x22' deck sizes
Available in 7000# GVWR or 14,000# GVWR
Heavy Duty Adjustable Flip Up Ramps
Heavy Duty 2"x2" Welded Perimeter Rail
Tandem Torsion Ride Braked Axles
Pressure Treated Plank Decking
Radial Tires
LED LIGHTS
Front Tongue Jack
Front Air Dam
Upgrade to Extruded Aluminum Decking
6' Extended Length Ramps
Tongue Mounted Storage Box
MISSION WOOD DECK CAR HAULER
All Aluminum Frame, Box Tube Construction
Available in 8'x16', 8'x18' and 8'x20' lengths
Tandem 3500# axles
Stowaway 5' Ramps
5000# Recessed D-Ring Tie Downs
Pressure Treated Plank Decking
Radial Tires
LED LIGHTS
Front Tongue Jack
MISSION Crossover Snowmobile Trailer 101" Wide
All Aluminum Frame, Box Tube Construction
Available in 12', 14' 16' or 20' Lengths
Fold Down Rear Door/Ramp
Screwless, Bonded Sides
Side Access Door
19" x 58" Front Access Door
Full Length Recessed Floor Tie Down Tracks
12" Interior Kick Plate
Torsion Axles
LED LIGHTS
Front Tongue Jack
Available in 6.5'x12', 6.5'x14', 6.5'x16' & 6.5'x18' deck sizes
All Aluminum Frame, 2"x5" Tubing
2x8 Heat Treated Decking
Aluminum Rear Ramp
1"x2" Welded Perimeter Rail
Radial Tires on Silver Mod Rims
Tandem Braked 3500# Leaf Spring Axle
LED Lights
Tongue Jack
All Aluminum Frame, Box Tube Construction
Available in 6.5'x14', 6.5'x16', 6.5'x18', 6.5'x20' and 6.5'x22' deck sizes
Available in 7000# GVWR or 14,000# GVWR
Heavy Duty Adjustable Flip Up Ramps
Heavy Duty 2"x2" Welded Perimeter Rail
Tandem Torsion Ride Braked Axles
Pressure Treated Plank Decking
Radial Tires
LED LIGHTS
Front Tongue Jack
MISSION Crossover Snowmobile Trailer 101" Wide
All Aluminum Frame, Box Tube Construction
Available in 12', 14' 16' or 20' Lengths
Fold Down Rear Door/Ramp
Screwless, Bonded Sides
Side Access Door
19" x 58" Front Access Door
Full Length Recessed Floor Tie Down Tracks
12" Interior Kick Plate
Torsion Axles
LED LIGHTS
Front Tongue Jack
MISSION WOOD DECK CAR HAULER
All Aluminum Frame, Box Tube Construction
Available in 8'x16', 8'x18' and 8'x20' lengths
Tandem 3500# axles
Stowaway 5' Ramps
5000# Recessed D-Ring Tie Downs
Pressure Treated Plank Decking
Radial Tires
LED LIGHTS
Front Tongue Jack
Front Air Dam
Upgrade to Extruded Aluminum Decking
6' Extended Length Ramps
Tongue Mounted Storage Box
862 Lancaster St. Leominster, MA. 01453
call us today: 978-537-0154
call us today: 978-537-0154
862 LANCASTER ST. LEOMINSTER, MA. 01453