LOADRITE MOTORCYCLE TRAILERS
Galvanized steel frame
Galvanized steel trays and ramp
Galvanized spring anxle
Sure-Lube® greaseable hubs
Highway-rated tires
Plastic fenders

​
Mastercraft Truck Caps now carries 2 styles of motorcycle trailers - To haul one bike, or if you need to haul multiple bikes.
The name Load Rite has been synonymous with the words "craftsmanship, style and value" for 30 years. Load Rite is a manufacturer of the finest galvanized steeel trailers on the market. With trailers available for heavy equipment, landscaping, yard work, motorcycles, boats and ATVs Load Rite offers a trailer for everyone.
Mission Trailers, made right here in New England, is a premier manufacturer of aluminum trailers in the USA for a variety of recreational uses.
Aluminum trailers are ideal for the homeowner as well as the service industry and those needing quality - but lightweight -enclosed or open trailers.
​
EZ-Hauler all aluminum enclosed trailers are the perfect solution for customers looking for a durable, light weight enclosed trailer. EZ Hauler has trailers for motorcylces, ATVS, UTVS, cars, snowmobiles and contractors. EZ Hauler offers hundreds of options to customize any trailer.
MISSION SSR UTILITY TRAILER
1/2" Marine Tech Plywood Decking
Fixed 16" sides with .030" skin (choose color)
Integrated aluminum rear ramp
Recessed rubber mounted lights
MISSION LANDSCAPE, UTILITY & EQUIPMENT TRAILERS
Mission Trailers makes 14 aluminum landscape and utility trailer models.Choose between a wood deck or aluminum deck. Trailer length is available up to 12' and there are other trailer options to choose from. Please call us at 978-537-0154 to inquire about these Utility trailers from Mission. ​
MISSION OPEN-MOTORCYCLE TRAILERS
All Aluminum Frame, Box Tube Construction
Heavy Duty Stow Away Ramp
Extruded Aluminum Decking
2" Hitch Coupler & 5000lb Safety Chains
Sealed & Enclosed Wiring System
Removable 18" Aluminum Stone Guard
13" Aluminum Spoke Rims
4 Year Limited Warranty
MISSION ENCLOSED ALUMINUM MOTORCYCLE TRAILERS
Whether you're a weekend warrior, Moto GP racer or a die-hard collector, our motorcycle product line offers the perfect model for your lifestyle. Combining an impressive list of standard features and a number of motorcycle-specific options, the sky's the limit when designing a motorcycle trailer to meet your specIfic demands. ​
MISSION ALUMINUM CARGO TRAILERS
Mission Trailers makes cargo trailers in small sizes - up to 8 1/2' x 20'.Whether you're hauling furniture, music equipment, or tools and equipment that you want protected, you'll discover the aluminum trailer difference.​
MISSION ENCLOSED SNOWMOBILE TRAILERS
Our all-new Crossover model marks another revolution in the snowmobile trailer market. The Crossover's enclosure features .030" exterior skin and a rear ramp door with spring assist. The Crossover is lightweight & aerodynamic, enclosed 8.5' wide, fits most machines and is a 2 place trailer.
​
MISSION OPEN SNOWMOBILE TRAILERS
Mission Trailers makes more than a dozen sizes of open, aluminum snowmobile trailers as well as snow trailer covers. Each trailer is designed to make transporting, loading and unloading a breeze- allowing you more more time to do what you love! ​
MISSION ATV UTILITY TRAILERS
Mission Trailers makes aluminum ATV utility trailers in two, three, and four place models.Each aluminum trailer is designed to make transporting, loading and unloading a breeze - allowing you more time on the trails! ​
The all-aluminum Sport Deck by Mission offers customers the ability to haul multiple sleds or 4-wheelers on the back of a pickup truck.Built to withstand the elements, you'll find yourself exploring new terrain that was once unreachable while towing a trailer. Already own a snowmobile or ATV trailer? Add the Sport Deck to your rig and take along your friends and family. ​
EZ HAULER STANDARD CARGO TRAILERS
All Aluminum Framework
One-Piece (Seamless) Aluminum Roof
5/8" Advantech™ Decking
Luan Walls w/ Plywood Kickplate (5-Wide Mdls)
Interior Dome Lights
Polished Aluminum Fenders
4-Year Limited Warranty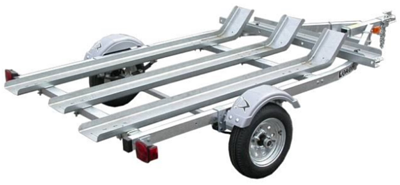 Upgrade to Bi-fold rear ramp
Upgrade to extruded aluminum decking
upgrade to LED lights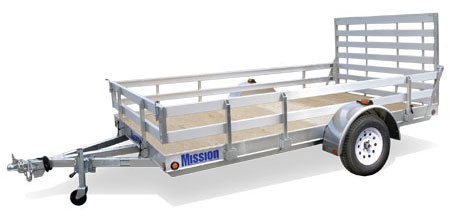 5/6-Wide Standard Cargo and 7-Wide Standard Cargo The E-Z Hauler Aluminum Trailers Standard Series are loaded with tons of features and an expanded choice of options.​
EZ HAULER DURALITE CARGO TRAILERS
16" o/c wall and ceiling studs
Great for carrying furniture, ATVs, motorcycles and other general cargo
Sizes range from 5"x8"– 8.5"x20"
5/6-wide Duralite Cargo, 7-wide and 8-wide The E-Z Hauler Aluminum Trailers Duralite Series is designed to compete with similarly equipped steel units yet these aluminum trailers are light on your wallet. With features such as triple-tube box tube aluminum tongues.
EZ HAULER STANDARD CAR HAULERS
The E-Z Hauler Aluminum Trailers Standard Car Hauler Series offers 100% box tube aluminum construction and features 16" o/c wall and ceiling studs throughout.With a hidden beavertail, this aluminum trailer is designed specifically for car hauling. These aluminum car haulers come standard with LED lights, radials, screwless sides and a vast selection of additional options. Lengths range from 16' to special order sizes up to 32'.​
EZ HAULER SNOWMOBILE TRAILERS
This series offers standard front and rear ramps and an inline design that is great for towing, loading and unloading snowmobiles. LED lights, radials and screwless sides come standard on these models with a vast selection of options available.
EZ HAULER ADVANTAGE TRAILERS
The E-Z Hauler Aluminum Trailers Advantage Series Car Haulers are packed with hard-to-find features at a fantastic price point.With standard aluminum decking and ramp, and a low profile design, this aluminum trailer is perfect for hauling cars.LED lights, radial tires, cast aluminum corners and screwless sides come standard and tons of options are available.​ Available in 20' and 24' lengths.
LOAD RITE SOLID SIDE UTILITY TRAILER
Available in multiple sizes starting at 5' x 8'
Fully galvanize frame & sides
15" galvanized rims
3,500# galvanized axle
Lay flat spring assist rear ramp
LED lights
Heavy duty tongue jack
Wishbone tongue
Welded tie downs along deck
Welded on spare tire holder
LOAD RITE MESH SIDE UTILITY TRAILER
LOAD RITE OPEN SIDE UTILITY TRAILER
Available in multiple sizes starting at 5'x8'
Fully galvanize frame
14" high open side rails
15" galvanized rims
3,500# galvanized axle
Lay flat spring assist rear ramp
LED lights
Heavy duty tongue jack
Wishbone tongue
Welded tie downs along deck
Welded on spare tire holder
LOAD RITE TALL WOOD SIDE UTILITY TRAILER
Available in multiple sizes starting at 5' x 8'
Fully galvanize frame
Galvanized sides with pressure treated planks
15" galvanized rims
3,500# galvanized axle
Lay flat spring assist rear ramp
LED lights
Heavy duty tongue jack
Wishbone tongue
Welded tie downs along deck
Welded on spare tire holder
Available in multiple sizes starting at 5' x 8'
Fully galvanize frame
14" high welded mesh sides
15" galvanized rims
3,500# galvanized axle
Lay flat spring assist rear ramp
LED lights
Heavy duty tongue jack
Wishbone tongue
Welded tie downs along deck
Welded on spare tire holder
LOAD RITE SIDE LOAD UTILITY TRAILER
Available in multiple sizes starting at 6.5' x 14'
Designed for side loading ATVs & equipment
Galvanized sides with pressure treated planks
15" galvanized rims
3,500# galvanized axle
Lay flat spring assist rear ramp
LED lights
Heavy duty tongue jack
Wishbone tongue
Welded tie downs along deck
Welded on spare tire holder
LOAD RITE BEAVER TAIL EQUIPMENT HAULER
Available in 18' or 20' lengths
9,990, 12,000 or 14,000# GVWR models
2 braked axles
Beaver tail rear design
Fully galvanized frame
Heavy duty adjustable rear ramps
6 D-ring tie downs
Heavy duty tongue jack
Welded on side stake pockets

862 Lancaster Street Leominster, MA. 01453​
54 Years (3 Generations) Family Owned and Operated
Factory Trained Installers Experienced Sales Staff